Furnace Maintenance
Much like annual appointments with a dentist or physician, furnaces also need routine checkups. That's why Keystone Heating & AC offers furnace maintenance programs for customers throughout Racine and Kenosha. Scheduled maintenance will help prevent unanticipated bills and ensure a furnace is operating at peak efficiency during the winter months.
Call us at 262-554-1080 to set up a furnace maintenance program.
---
3 Benefits of Regular Furnace Service
1. Keep a Home Safe
Many furnaces utilize natural gas to warm air, and the heat exchanger completes a crucial job in this process. If the heat exchanger is damaged, carbon monoxide may permeate throughout the home which can be deadly.
The heat exchanger will be assessed durning a maintenance check, as well as burners and valves to ensure a home is safe.
2. Limits the Need for Service Calls
Having a furnace stop working in the middle of winter isn't ideal, especially when it could have been prevented.
Scheduled maintenance for a home's furnace means our professionals will review the heating system and ensure everything's working properly. This will help avoid expensive repairs down the line. Since Keystone is already inspecting the furnace, we will also recommend when it's time for a new heating system.
3. Enhances Heating Effectiveness
Routine care not only keeps a furnace clean and free of dust and dirt, it is also a crucial task in keeping a heating system operating at peak performance throughout the winter.
---
What Does Furnace Service from Keystone Include?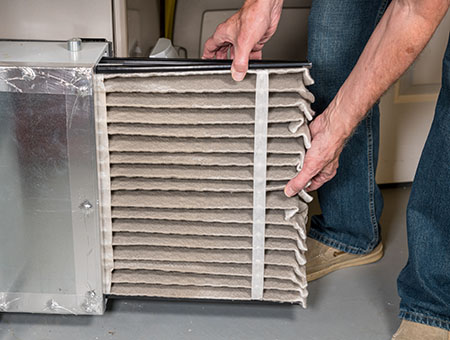 Our professional furnace maintenance programs include the following:
Checking Core Components
We'll examine essential furnace components including the blower motor, heat exchanger, and burners to ensure they're clean and operating correctly.
Testing Electrical Components
We'll ensure the furnace's electrical components are working properly with all connections in place.
Verifying Airflow
We'll confirm there are no issues that may impact the operation and airflow from the heating system.
Full Review of Furnace Activity
We'll check controls and safety mechanisms to make certain the furnace is working safely and efficiently.
---
Contact Us to Schedule Furnace Maintenance
When it comes to improving the efficiency and dependability of a furnace, regular maintenance is vital.
Call us at 262-554-1080 or contact us online to set up an appointment.