Air Conditioner Maintenance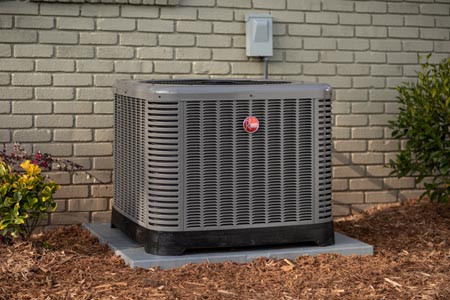 An air conditioning system should operate efficiently, no matter the weather or temperature. Trust the HVAC pros at Keystone Heating & AC for air conditioner maintenance needs within Racine and Kenosha. An air conditioner requires regular maintenance to keep it operating properly through warm summer temperatures and to alleviate costly emergency service calls.
Our heating and cooling specialists make detailed assessments of air conditioning systems during scheduled tune-ups and make note of any potential problems. Annual maintenance can also help an air conditioner run proficiently, helping reduce the cost of energy.
Get in touch with us at 262-554-1080 to request an air conditioner tune-up appointment.
---
3 Benefits of Scheduled Air Conditioner Service
Air conditioning service is essential for system durability and longevity. Here are three great perks that come with regular service:
1. Reliable Operation
Air conditioner tune-ups are completed with extended performance in mind. With regular service, an air conditioner is better prepared for continuous operation throughout the summer.
2. Limits Emergency Service
Routine HVAC service typically helps our experts locate issues with an air conditioning system before they become costly emergencies.
3. Helps Save Money
A well-kept cooling system delivers efficient air conditioning, a longer lifespan, and lower energy bills.
---
What Does Air Conditioning Service Include?
Keystone technicians will complete a list of tasks during an air conditioner service appointment including:
Inspecting and Cleaning Internal Components
All critical components will be properly checked such as the fan, evaporator coil, and refrigerant levels to confirm the outdoor AC unit is working correctly.
Greasing Moving Parts
Keeping moving pieces lubricated helps reduce energy requirements and decreases friction. Pieces that aren't regularly oiled might need to be fixed or replaced more regularly.
Clearing Condensate Drain Line
Condensate drain lines aid equipment by flushing excess liquid that is produced while the air conditioner is operating. Mold can lead to blockages and cracks if the drain isn't regularly serviced by a specialist.
Checking Full Equipment Operation
We'll take a look at electrical contacts to ensure the air conditioner is delivering dependable, energy-efficient, cooled air. We'll also ensure the thermostat is set accurately and exchange the air filter for ideal indoor air quality.
---
Contact Us to Schedule an Air Conditioner Tune-Up Today
Routine maintenance is vital for the performance and longevity of any cooling system. At Keystone Heating & AC, our objective is to keep an air conditioning system running efficiently even on the hottest of days. Contact us to schedule an air conditioner maintenance appointment.