Furnaces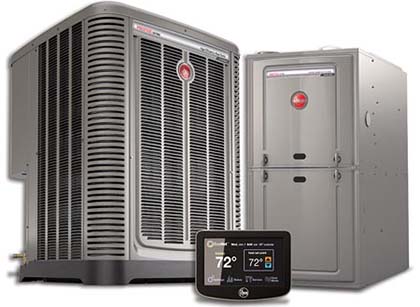 Every home is unique. Families within Racine and Kenosha can count on Keystone Heating & AC when it is time for the installation of a new furnace. Our heating and cooling pros will take into account a home's space and insulation needs when determining which model furnace will be best for comfort and budgets.
Keystone Heating & AC installs heating systems from trusted manufactures such as Rheem and Lennox and can also service previously installed equipment from these brands and more (Bryant, TRANE, Carrier, YORK, Luxaire). The innovative technology on newer equipment will improve a home's comfort and heating expenses. Certain ENERGY STAR® furnaces are also eligible for federal energy tax reductions and local utility refunds.
Learn more about new furnace options by reaching out to Keystone at 262-554-1080.
---
4 Advantages of Furnace Installation
A modern furnace provides many benefits for a home including:
Superior cost savings that can lower energy expenses, especially when an ENERGY STAR® model is installed.
Compatible with smart thermostats which regulate a home's temperature and help lower heating costs.
Advanced technology, like variable-speed heating, that provides soft warmth while cutting down on gas.
Confidence the furnace will operate correctly throughout the heating season without repairs.
---
We Have the Right Heating Equipment for Any Home
Whether you need a variable-capacity gas furnace or two-stage gas furnace, our trained HVAC technicians will help determine the right furnace replacement for all needs and budgets.