Signs That An Air Conditioner Needs Repair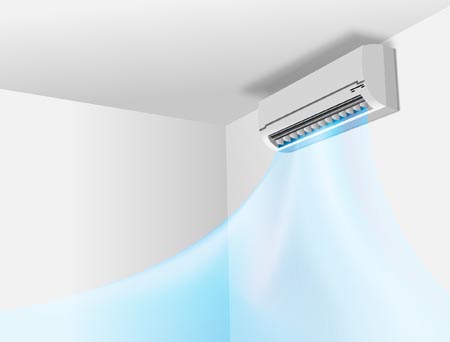 When the time comes for maintenance or repairs, your air conditioner will provide a few signs that it's time to contact Keystone Heating & AC.
One of the most obvious signs air conditioning repair is required is a reduction in cooled air and/or poor airflow. Unfortunately, when an air conditioner doesn't sustain cooling needs, it's generally a much more serious problem. The air conditioner may have condenser problems or it may be running low on Freon. Low airflow could also be a symptom of a ductwork issue. Whatever the issue is, you can be sure the Keystone Heating & AC team will provide the best options, whether it's an air conditioner repair or installation of a new unit.
A leaky air conditioner is also a sign that repair is required. If an air conditioner leak is found, call for service immediately. Refrigerant leaks can cause health problems. If it's a condensation leak, the health risks are lower, but can lead to larger problems, such as mold growth, if left unresolved.
If any portion of an HVAC system starts to make uncommon sounds, it's likely a sign of trouble. When it comes to an air conditioner, troubling sounds may include squealing or grinding. An air conditioner should operate quietly without more than the sound of the fan turning on or off. Sounds from an air conditioner could mean the need for something as simple as lubricating moving parts or something more serious leading to a potential breakdown. Call Keystone to determine the source of these uncommon noises and keep your air conditioner running at peak efficiency.
If odors are coming from vents, it could point to air conditioner troubles as well. If strange odors are emanating from an HVAC system, call a technician. These odors can range from mold growth to electrical issues.
Sometimes, it may feel like an air conditioner is having problems, but it's the thermostat that requires attention. If a home's temperature isn't where you've set the thermostat, Keystone Heating & AC can check to see where the issue lies. It might just be a wiring problem, a blocked sensor, or it may be time for a thermostat replacement.
When it comes to air conditioning repair, scheduling routine maintenance can save trouble and money. With an annual preventive air conditioning maintenance program, Keystone will find potential problems and correct them before they become costly. Certain air conditioning repairs are unavoidable, even with a regular maintenance program, but we're just a call away. Contact Keystone Heating & AC today for air conditioner maintenance or repairs.