Thermostats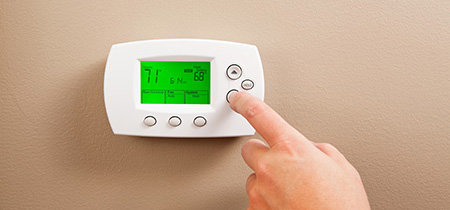 Make the most of a home's HVAC system with a programmable or smart thermostat from Keystone Heating & AC. We offer a variety of reliable thermostats from Honeywell, Pro1, and Ecobee ranging from touchscreen models to standard button controls.
A Wi-Fi enabled thermostat learns when a family is home or away, then adjusts heating or cooling to provide optimal temperatures to help save energy. These modern devices feature cloud connectivity allowing homeowners to adjust the thermostat while home or away with a phone or other web-enabled device.
---
4 Benefits of Using a Smart Thermostat
A smart thermostat supports a variety of advantages for a home including:
Coordinating temperature control based on a family's routine, helping to enhance energy savings.
Controlling a home's temperature with a smart device while home or away.
Understanding energy habits through customized reports.
Using voice directives on select components to adjust furnace or air conditioner settings.
---
Lower Energy Bills with a New Thermostat
Call our HVAC team at 262-554-1080 or contact us online to learn more about our smart thermostat offerings. Our heating and cooling professionals can answer questions and help choose the right thermostat for homeowners throughout Racine and Kenosha.